Backpacking Carson Pass Trails
Most of the best backpacking around Carson Pass is in the high country from Silver Lake across the pass to Blue Lakes. Some of the most interesting trails venture deep into the Mokelumne Wilderness. By far the most popular route is the Pacific Crest Trail which extends north and south, crossing Carson Pass.
For overnight trips into the Mokelumne Wilderness a wilderness permit is required. Also, the popular region around the summit of Carson Pass falls under the guidelines of the Carson Pass Management Area. The management area includes Frog Lake, Winnemucca Lake, Round Top Lake, Fourth of July Lake, and over to the southeastern shore of Caples Lake.
Carson Pass Management Area
Within the Carson Pass Management Area campfires are not allowed. Camping is not allowed at Frog Lake. Camping at other locations is only at a limited number designated sites. In the summer pick up wilderness permits at the Carson Pass Information Station next to the parking lot on Carson Pass. In the summer it is open 7 days a week, Monday through Thursday - 9:00 AM to 4:00 PM and also Friday through Sunday - 8:00 AM to 5:00 PM. In the winter contact the Amador Ranger Station in Pioneer.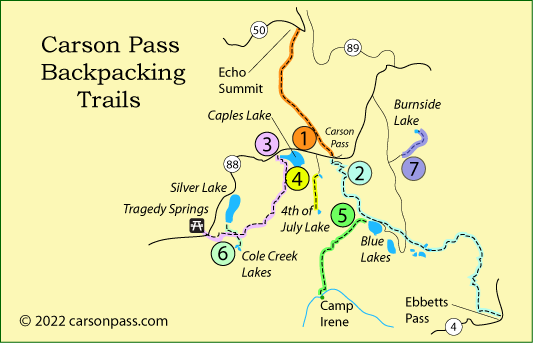 1. Pacific Crest Trail - Carson Pass to Echo Summit
Distance: 13 miles one way
Elevation changes: 8,600' to 9,000' to 7,400'

This 13-mile hike takes you over gentle country from near Carson Pass via the Pacific Crest Trail to Echo Summit . Most of the route is through forested country with elevation changes of no more than 500 hundred feet at a time until the final descent to Echo Summit. Five miles out on the trail you pass Showers Lake.
A good alternative route is to take the Meiss Country turnoff after 3 miles and follow the gradually descending trail past Round Lake and out through Big Meadow to the trailhead on Luther Pass (Highway 89). It is only an 8-mile hike. There are a couple of short uphill sections, but overall the trail drops from a high of 8,800 feet to 7,300 feet. Rather than camp at Round Lake, continue less than a mile along the trail and turn left and soon left again to Dardanelle Lake, a much more scenic stopping place. It is only about 1.3 miles off of your main trail.
Parking at the trailhead is one mile west of Carson Pass at the Woods Lake sign.
Wendy Lautner's Day & Section Hikes, Pacific Creast Trail Northern California , shown right, includes many of the hikes listed on this page, besides covering the Pacific Crest Trail.
2. Pacific Crest Trail - Carson Pass to Ebbetts Pass
Distance: 23 miles one way
Elevation changes: 0ver-all ascend and descend over 6,000'

The 23-mile trek from Carson Pass to Ebbetts Pass involves a lot of up and down hiking. Most of it comes in small spurts. The most significant descent is the 1,200' drop from the side of The Nipple down to Blue Lakes. The ascents are spread out so no one section of the trail feels like a killer. Starting at Blue Lakes rather than Carson Pass would cut 10 miles off the hike.
Hike the first day to Lost Lakes, only 6 miles, or push all the way past Blue Lakes, a 12-mile day. Beyond Blue Lakes the trail traverses the shoulders of volcanic Raymond Peak and Reynolds Peak before passing beautiful upper Kinney Lake. Ebbetts Pass is only 1& miles beyond the lake.
3. Hike the Carson River Emigrant Trail
Caples Lake to Tragedy Springs
Distance: 16 miles one way
Elevation changes: 7,800' to 9,600' to 7,900'

This hike takes you over some of the most dramatic parts of the Gold Rush-era wagon trail. Start at the parking lot at the northwest corner of Caples Lake and set off along the shore of the lake. After a little more than a mile turn off the trail the Emigrant Lake, following the emigrant route up West Pass on the shoulder of Melissa Coray Peak (5 miles).
Continue west along Hungalelti Ridge (formerly Squaw Ridge), now a rugged 4-wheel route. Finding water can be difficult late in the summer, so this is best done as a mid-summer trip soon after the snow has melted. Late in the summer you may need to push on as far as Plasse's Trading Post site before finding running water (9 miles). Campsites with great views of the surrounding country can be found all along Hungalelti Ridge.
On your second day follow the trail around Allen's Ranch and then west toward Mud Lake. At Mud Lake turn north to Porthole Gap. Then follow the road/trail north to the highway and cross over to Tragedy Springs.

For a detailed guide to this section of the trail, pick up a copy of Frank Tortorich, Jr.'s Hiking the Gold Rush Trail, a Hiking Guide over West Pass, Caples Lake to Tragedy Spring, 2004. The book is available from The Oregon-California Trails Association.
4. Fourth of July Lake
Distance: 4 miles one way
Elevation changes: 8,200' to 9,400' to 8,200'

The short trek to Fourth of July Lake is a popular overnight trip. Begin at Woods Lake and hike up past Round Top Lake, continuing south through a gap between Fourth of July Peak and Round Top Peak. Then descend 1,200' to Fourth of July Lake.
Nestled like a bird's nest in a tree, Fourth of July overlooks Summit City Creek canyon. Since it is in the Mokelumne Wilderness, you will need a wilderness permit for this trip.
5. Blue Lakes to Camp Irene
Distance: 12 miles one way
Elevation changes: 8,200' to 8,500' to 5,300'

This ambitious backpack outing descends 3,000 feet over 12 miles along Summit City Canyon all the way to the North Fork Mokelumne River, ending at a beautiful valley known as Camp Irene. Some of the trail has fallen to disrepair and requires some cross-country type route finding in places. Several creek crossings can be challenging, especially early in the summer.
Begin at the campground at the west end of Upper Blue Lake. Climb a low ridge and then drop into the upper reaches of Summit City Canyon. The trail follows Summit City Creek 10 miles down to the Mokelumne River. Continue hiking around a little granite knob and drop to rejoin the river 2 miles down stream at Camp Irene. The best campsite is on the north side of the river near a sandy beach.
For a detailed guide to the lower portion of this hike where the trail may be difficult to find, see Tahoe to Whitney.
6. Cole Creek Lakes
Distance: 6.5 miles one way
Elevation changes: 7,300' to 8,600' to 8,000'

Quiet little Cole Creek Lakes are tucked away to the south of Silver Lake, making them a perfect overnight backpacking destination. Because they are in the Mokelumne Wilderness you will need a wilderness permit.
Begin at Plasse's Resort at the south end of Silver Lake and follow the trail south up over to ridge and past the Allen Ranch and then the site of Plasse's Trading Post. From there continue south, descending gradually to the lakes. Fishing is good in the Cole Creek Lakes for brook trout. Nearby are Pardoe Lake and Long Lake.
7. Charity Valley to Burnside Lake
Distance: 5 miles one way
Elevation changes: 7,800' to 7,200' to 8,200'

This overnight trip to Burnside Lake is over easy dirt road and trail without any dramatic elevation changes. To reach the trailhead, turn onto the Blue Lakes Road off Highway 88 east of Carson Pass. About 6.5 miles south on the road watch for the turn up Charity Valley. Park where you can and set out hiking east down gently sloping Charity Valley.
Around mile 3 the trail takes a little dip and then climbs to meet the trail coming up from Grover Hot Springs. Turn left on the trail and in about a mile you arrive at Burnside Lake. Be aware that there is a 4-wheel route leading into the lake from the north. Fishing is good for rainbow trout.
Pack Trips with Kirkwood Sierra Outfitters
(209) 258-7433 Kirkwood Sierra Outfitters
Kirkwood Sierra Outfitters features wilderness pack trips. Owners Jim and Karen Hagen have years of horseback riding and mountain travel and camping experience. They know the best trails and camping spots in the Mokelumne Wilderness and El Dorado National Forest and can help you plan a rewarding wilderness experience.
If you like, they can do a Spot Trip - drop you and your backpack at a given location and then return to pick you up there on a designated date. In the meantime, you can backpack about the wilderness.
Other Sierra Passes - Other Backpacking Adventures
Ebbetts Pass

A few miles to the south, Ebbetts Pass Scenic Byway (Highway 4) makes a great jumping off place into the Mokelumne Wilderness and the Carson-Iceberg Wilderness. Discover great backpacking trails on Ebbetts Pass Adventures.
Echo Summit

A short distance to the north, Echo Summit (Highway 50), is the gateway to the Desolation Wilderness. Many great backpacking destinations can be found on Discover Echo Summit.
Sonora Pass

Farther to the south beautiful Sonora Pass (Highway 108) has trailheads for the Emigrant Wilderness and the Carson-Iceberg Wilderness. You'll find spectacular backpacking destinations on Sonora Pass Vacations.
High Sierra Trails
A Backpacker's Guide to the
Most Spectacular Trails in the Sierra Nevada