Carson Pass OHV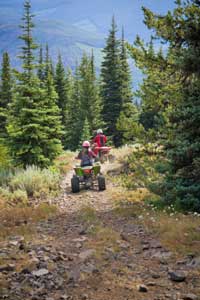 Across the broad western slope of Carson Pass are miles of roads and trails open to OHV use, except during the winter months (January 1 - March 31). The seasonal closure can be extended if conditions are especially wet. Paved and most gravel roads are not affected by the winter closure.
The El Dorado National Forest has free Motor Vehicle Use Maps available at Ranger Stations. These show the various OHV roads and trails and which types of vehicles may be used on them. You can pick one up at the Amador Ranger District office at 26820 Silver Dr. in Pioneer. The maps are also available on the internet:
Motor Vehicle Use Map, Side 1
Motor Vehicle Use Map, Side 2
For the Humboldt-Toiyabe National Forest east of Carson Pass, Motor Vehicle Use Maps can be picked up at their Carson Ranger District office at 1536 S. Carson Street in Carson City. Or view the map of the eastern side of Carson Pass here:
Motor Vehicle Use Map, Carson Ranger District
Gold Note OHV Routes
The Gold Note OHV area spreads north of Highway 88, mostly along the western side of the Middle Fork Cosumnes River, with motorcycle routes connecting north to Elkins Flat. Elevations range from 4,000 to 6,000 feet. Snow on some of these routes can last into late spring. Usually this area is open from May through October.
Access to the Gold Note OHV Routes
From near Cooks Station Via Omo Ranch Road: 27 miles east of Jackson on Highway 88 take Omo Ranch Road. Follow it for 0.7 miles and then turn right onto North-South Road. Follow it down to Sopiago Creek and up the other side 4.5 miles to Five Corners. This is a popular staging area.
Sopiago Road Staging Area: From Five Corners continue north 0.7 miles and then turn left. Follow that road 4 miles to a large staging area.
Most Popular Routes
Gold Rush (Route 33): This 18-mile loop of moderate difficulty follows narrow manzanita lined trails and at times offers scenic ridgetop views.
Hard Rock (Route 34): For motorcycles only, a 0.75-mile cutoff from Route 33. Moderate difficulty with a short hill climb to the ridge top.
Red Gold Mine (Route 40): For motorcycles only, a 0.5 mile cutoff trail on Route 33, cutting the route in half.
PiPi Grade (Route 35): An easy 5.8 mile loop, good for beginners. Mostly roads.
Elkins Gold (Route 36): For motorcycles only, a 5.2-mile route that connects to Elkins Flat. With steep, narrow trail sections, Elkins Gold is rated most difficult.
Books
Peter Massey's California Trails, Northern Sierra Region (shown here) is an amazing guide to OHV trails, complete with excellent maps and detailed route information.
Camping
Dispersed camping is allowed here. You need a fire permit for campfires. Camping is also available at nearby Pipi Campground.
Other OHV Areas along Carson Pass
Beaver Ridge - Panther Ridge: A number of good OHV routes wind along the ridges and into the canyons above the Mokelumne River south of Highway 88. Access the area 40 miles east of Jackson on Highway 88 at Lumberyard. Turn south on Road 92 and continue down to Beaver Ridge. From there choose your trails, checking the forest service markers to be sure you are on OHV routes.
Lower Bear River Reservoir:
These roads and trails lead off south of the reservoir. Follow the road down from Highway 88, staying to the right to swing across the dam and around to the south shore area. There pick up numerous OHV routes leading out to the Cole Creek area and up to Onion Valley.
Hope Valley - Charity Valley Area: On the east side of Carson Pass, take the Blue Lakes Road off Highway 88. At the Hope Valley Campground an OHV route begins, leading south parallel to the main road. Several branches from the road lead off to the west.
Deer Valley OHV route: This popular 4-wheel route leads south from Blue Lakes along a dirt road, passing through Clover Valley and Deer Valley before descending to Hermit Valley on Highway 4 (Ebbetts Pass). The last half mile of this route has a reputation for being very difficult.
Other Sierra Passes - Other OHV Adventures
Ebbetts Pass

Just to the south Ebbetts Pass Scenic Byway (Highway 4) has more OHV routes, including the famous Slick Rock Trail from Spicer Meadow Reservoir up to Lake Alpine and the expansive Black Springs area. Find more information at Ebbetts Pass Adventures.
Echo Summit

Some of California's best 4-wheeling areas are found on Echo Summit (Highway 50), including the Rubicon Trail. Find out about all the OHV opportunities there on Discover Echo Summit.
Sonora Pass

Farther south on Sonora Pass (Highway 108) you'll find even more OHV adventures. The Eagle Meadow and Niagara Creek area are popular high country routes. Other areas include Crandall Creek and Hull Creek. Get more information at Sonora Pass Vacations.