Blue Lakes
Blue Lakes are part of a cluster of lakes 12 miles south of Highway 88 at Hope Valley. Operated by Pacific Gas and Electric Company, the lakes serve as water storage for downstream hydro-electric plants. Four main campgrounds, plus an expansion campground are open as soon as the road is plowed free of snow in early summer. The lakes offer boating, swimming, and fishing. Nearby is the Tamarack Lake - Indian Valley area.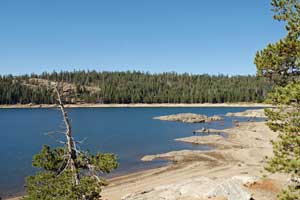 When you first arrive at Blue Lakes you will find a small parking area with Information Signs with a map and other details about the area. Two dirt boat ramps are located along the shore of Upper Blue Lake and one ramp on Lower Blue Lake. There are no supplies available at Blue Lakes. The nearest stores are in Woodfords and Markleeville.
By mid to late summer wildflowers appear in the meadows around the lakes. Look for Cow Parsnip, Groundsel, Indian Paintbrush, and Lupine. For birdwatchers keep your eyes open for Hairy Woodpeckers, Warblers, Common Nighthawks, House Wrens, Mountain Chickadees, Nuthatches, and Red Crossbills.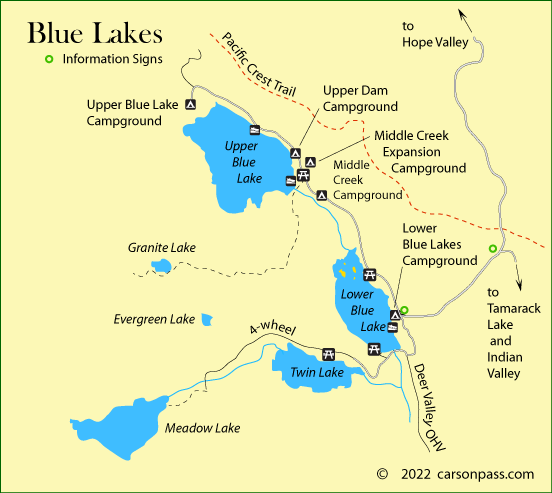 Twin Lake and Meadow Lake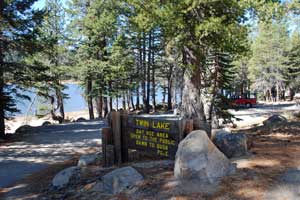 The 0.8 mile dirt road to Twin Lake passes below the dam on Lower Blue Lake and then climbs a short, bumpy hill before leading along the north side of the lake. 4-wheel drive vehicles are recommended, but it is possible for a high clearance 2-wheel drive vehicle with good traction to reach Twin Lake.
At Twin Lake you will find a parking area next to a picnic area with a restroom. Hand launched boats could easily be carried to the water.
The 1.8-mile road to Meadow Lake beyond Twin Lake is best taken by 4-wheel drive vehicles. There is a parking area at the end of the road and then a quarter mile trail to the lake.
Day Hikes at Blue Lakes
Around Upper Blue Lake
For an easy stroll, the 3-mile hike around Upper Blue Lake is an obvious choice.
Granite Lake
The 2-mile trek up to Granite Lake makes an interesting half day hike from Blue Lakes. Start out at the Middle Creek Campground and head west up the trail, passing a tiny unnamed lake along the way. The entire climb is about 550 feet. From Granite Lake you have nice views back down on Upper Blue Lake. Fishing is good in Granite Lake for Lahontan cutthroat trout.
Pacific Crest Trail Sojourn
Pick up the trailhead just east of Lower Blue Lake and stroll south. The trail winds for 3 miles past a series of shallow lakes - Tamarack, Sunset, and Wet Meadows. You'll want to poke around along the way, so the overall hike could easily turn into a full 8 miles round trip.
OHV around Blue Lakes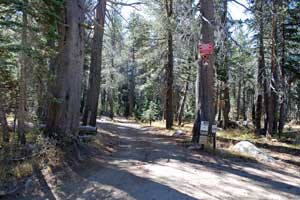 Deer Valley
The 7-mile run from Blue Lakes south to Hermit Valley on Highway 4 is a popular route for 4-wheelers. The trail is a designated corridor through a wilderness area. It begins easy enough at the southern end of Lower Blue Lake and heads south into Clover Valley. A stream crossing there can be problematic if Blue Creek is running high. Usually it is 1 - 2 feet deep. Farther south the trail crosses Deer Creek and then climbs slightly and levels off before a sharp descent into Hermit Valley. The final quarter mile of the road is loaded with boulders, making it a challenge for many.
Lost Lakes
Continue past Upper Blue Lake on a one-mile long road that carries you up to Lost Lakes. It is easily done by any 4-wheel drive vehicle.
Sunset Lakes
There are many short, interconnecting OHV routes available out toward Tamarack Lake, the cluster of Sunset Lakes, and Wet Meadow Reservoir.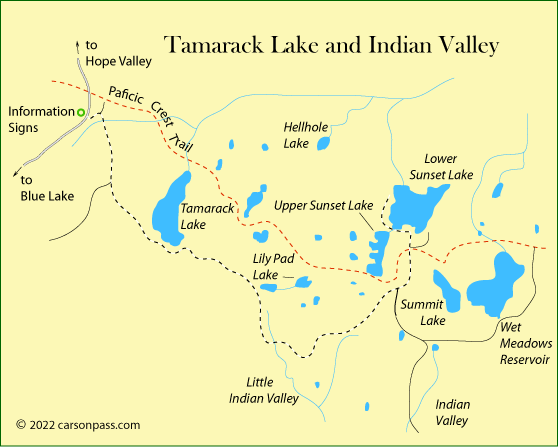 Tamarack Lake and Indian Valley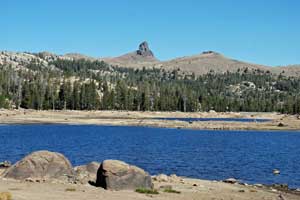 A mile before Blue Lakes Road arrives at Lower Blue Lake is a turnoff to Tamarack Lake (shown right with the Nipple in the background) and the Indian Valley area. Signs along the road mark the turn. The main dirt road, which winds 3.5 miles out to Lower Sunset Lake, is in good condition and can be negotiated by high clearance vehicles. Connecting off the main dirt road are numerous side routes, mostly intended for OHV travel.
The Pacific Crest Trail passes through the area, with an access trailhead soon after you leave Blue Lakes Road. There you will find a parking lot and a restroom. Many of the lakes in the area are reservoirs used for water storage. In the fall the lake levels drop as water is drawn from them.
There is dispersed camping in the area.
Blue Lakes Campgrounds
All the campgrounds at Blue Lakes are usually open early summer to mid-October, depending on snowfall. They are operated by PG&E. For more complete camping information, see Blue Lakes Camping.
Reservations - New since 2015
Many Blue Lakes campgrounds are now on a PG&E reservation system. Sites may be reserved from 3 days prior to arrival. A 2-night minimum is required if arriving on a Friday or Saturday. Campgrounds are still available for first-come, first served camping in sites that have not been reserved. During seasonal shoulder periods campgrounds may be open, but may not be accepting reservations. Their typical reservation season starts the Monday before Memorial weekend and closes a week after Labor Day weekend.

Fees: $23 per night at every Blue Lakes campground
Lower Blue Lake Campground
16 camp sites for tents, trailers, and RVs.
Vault toilets, piped water, picnic tables, grills, fire rings, bear boxes
Boating, fishing, swimming at Lower Blue Lake
Middle Creek Campground
5 popular camp sites along the creek for tents, trailers or RVs
Vault toilets, piped water, picnic tables, grills, fire rings, bear boxes
Swimming, boating, fishing, picnicking, hiking
Middle Creek Expansion Campground
34 sites at the Expansion Campground across the road
Vault toilets, piped water, picnic tables, grills, fire rings, bear boxes
Swimming, boating, fishing, picnicking, hiking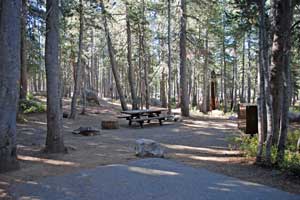 Upper Blue Lake Damsite Campground
25 camp sites for tents, trailers and RVs
Vault toilets, piped water, picnic tables, grills, fire rings, bear boxes
Swimming, boating, fishing, picnicking, hiking
Upper Blue Lake Campground
32 camp sites for tents, trailers and RVs
Vault toilets, piped water, picnic tables, grills, fire rings, bear boxes
Swimming, boating, fishing, picnicking, hiking