Lower Bear River Reservoir
The 727-acre Lower Bear River Reservoir a few miles off Highway 88 and 40 miles east of Jackson. Fishing, water skiing, and boating are all popular at Lower Bear River Reservoir. The lake is easy to access for day outings or overnight stays. At 5,800 feet, the reservoir is free of snow before any of the other major lakes higher on Carson Pass.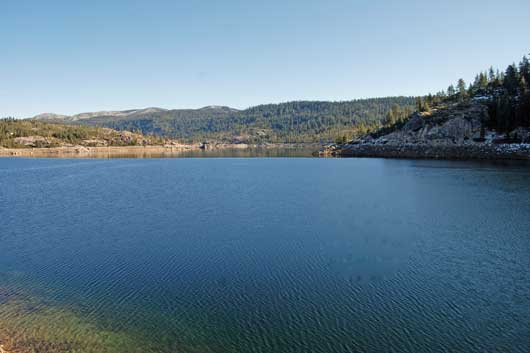 Day Hikes at Lower Bear River Reservoir
Upper Bear River Reservoir
Drive out the dirt road toward the upper reservoir and then hike the final mile down to the lake's edge. The trail drops 200 feet. The upper lake is about a mile long and covers 166 surface acres.
Devils Lake
Drive out the road on the east side of the reservoir to Deer Valley. There turn north on the Devils Lake dirt road, following it for 1.3 miles. Park there and continue on the trail to the lake, a 1.6 mile hike, climbing 500 feet. The tree-lined shorelines make great places for picnics. Fishing in the lake is good for brook trout.
Shriner Lake
Shriner Lake's trailhead is a bit of a convoluted drive on dirt roads south of Lower Bear River Reservoir, but the hike itself is only 2 miles, gaining 500 feet in elevation. The scenic lake has great fishing for rainbow trout, and there are good campsites along the southwest shore. Since it is in the Caron-Iceberg Wilderness, you will need a wilderness permit if you plan to stay overnight. At the Ranger Station in Pioneer pick up the Travel Opportunity Guide, a free map with great details of offroad routes, back country roads, and trails. It shows the road to the trailhead via Cole Creek.
Bear River Lake Resort
40800 Highway 88, Pioneer, CA
(209) 295-4868 Bear River Lake Resort
Day Use Rates: (10:00 AM - 6:00 PM) Launch $10, Beach and Picnic Area $5
Resort Amenities
Restaurant and bar, store, beach
Campground and cabin rentals, dump station, showers, laundromat, playground
Marina with boat rentals, launch ramp, gas, and berthing.
Bear River Lake Boat Rentals
Boat
Hour
Half Day
Full Day
Overnight*
*Overnight means return next day by 9:00 AM. Two night rates available. Prices subject to change.
Fishing Boat with motor and gas
$25
$75
$110
$110
Canoe
$10
$30
$45
$65
Paddle Boat
$15
Single Kayak
$10
Double Kayak
$13
Bear River Lake Marina Fees
Boat Size
Daily
weekly
Monthly
Monthly Double
Prices subject to change.
Standard Size Boat
$12
$72
$115
$172
Extra Large Boat
$22
$96
$135
$202.50
Campgrounds
All campsites include power, water, picnic tables, fire fits, flush toilet bathrooms, showers.
Rates for 1 vehicle and 4 people: $33 per night for standard site, $49.50 for extra large site (weekly and monthly rates available).
Cabins
Sleep 4, bedroom and living room, linens and blankets provided, full baths, kitchens.
Rates: $117 for a single night, $102 per night for 2 or more nights, $612 per week.
Lower Bear River Reservoir Campgrounds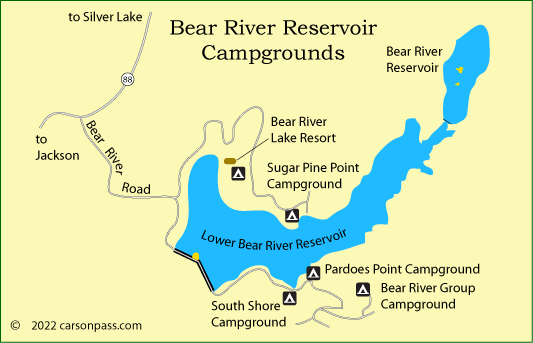 South Shore Campground
22 camp sites for tents, trailers and RVs up to 40 feet
Vault toilets, piped water, picnic tables, grills, fire rings
Boating, fishing, swimming at Lower Bear River Reservoir
Pardoes Point Campground
10 camp sites for tents
Vault toilets, piped water, picnic tables, grills, fire rings
Swimming, fishing, picnicking, hiking, car-top boat launch
Sugar Pine Point Campground
8 camp sites for tents
Vault toilets, no water, picnic tables, fire rings
Swimming, fishing, picnicking
Bear River Group Campground
4 group camp sites: Kokanee holds 50 people and Junco, Chipmunk, and Smokey each hold 25
Vault toilets, piped water, picnic tables, grills, fire rings, bear boxes
Swimming, fishing, picnicking, hiking