Forest Service Ranger Districts
The Carson Pass corridor passes through the El Dorado National Forest on the west slope and the Humboldt-Toiyabe National Forest on the east. Each national forest then is subdivided into ranger districts. On the west side of the pass is the Amador Ranger District while on the east side is the Carson Ranger District.
Eldorado National Forest Offices
Amador Ranger District Office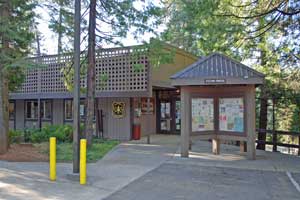 26820 Silver Drive, Pioneer, CA 95666
(209) 295-4251
Hours: 8:00 AM - 4:30 PM
Summer: Open Monday - Saturday
Winter: Open Monday - Friday, closed holidays
Eldorado National Forest
Campfire Permits and Wilderness Permits are available here, along with various forest maps, books, pamphlets, and flyers. Forest Day Use Passes are needed in the summer and fall for use of the following parking areas: Carson Pass, Carson Overflow, Meiss, and Woods Lake. The passes cost $5 a day. Annual day-use passes may be purchased for $20. During the Sno-Park season (Nov. 1 - May 30), Sno-Park passes are needed instead of Forest Day Use Passes at Carson Pass and Meiss parking areas. These also may be purchases at the Amador Ranger Station. For more information about Carson Pass Sno-Parks, see
Carson Pass Snow Play.
Eldorado National Forest Interpretive Association (ENFIA)
The ENFIA is a nonprofit organization that helps the El Dorado National Forest serve the public. They assist in informing visitors about natural history, history, and special features of the forest. They make available books and other forest-oriented merchandise.
Among the publications you may want to purchase is their book, Hiking the Greater Carson Pass Region, by Dick Brock. This book and other publications may be purchased at the Amador Ranger Station or online at the ENFIA's website.
Eldorado National Forest Interpretive Association
Carson Pass Information Station
Through mostly volunteer labor, the ENFIA helped to construct the Carson Pass Information Station located right on the summit of Carson Pass. The station is staffed by volunteers from ENFIA who serve as docents for Carson Pass. Wilderness permits may be obtained here in the summer.
Humboldt-Toiyabe National Forest Offices
Carson Ranger District Office
1536 South Carson Street, Carson City, NV 89701
(775) 882-2766
Humboldt-Toiyabe National Forest
Hours: Monday - Friday, 8:00 AM - 4:30 PM
The Carson Ranger District offers a large selection of books and maps for purchase. They carry over 50 different Forest Service, Wilderness, USGS 7.5 Topographic and Recreational maps. There is also an excellent selection of guide books available on such topics as hiking, fishing, off-highway routes, ghost town exploration, birds, plants, flowers, trees, geology and local history. The Eastern Sierra Interpretive Association supplies all the products sold at the Carson Ranger District.
Bridgeport Ranger District Office
Highway 395, ½ mile south of Bridgeport, CA
(760) 932-7070
Hours: 8:00 AM to 4:30 PM - winter Monday through Friday ; summer, seven days a week