Carson Pass
The summit of Carson Pass is a great place from which to launch a variety of activities from day hikes and backpacking to peak bagging and photography outings. The region around the summit of Carson Pass falls under the guidelines of the Carson Pass Management Area, which includes Frog Lake, Winnemucca Lake, Round Top Lake, Fourth of July Lake, and over to the southeastern shore of Caples Lake.
Carson Pass Management Area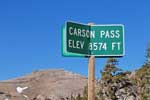 Within the Carson Pass Management Area campfires are not allowed. Camping is not allowed at Frog Lake. Camping at other locations is only at a limited number designated sites. In the summer pick up wilderness permits at the Carson Pass Information Station next to the parking lot on Carson Pass. The station is open from Memorial Day weekend through September 16, seven days a week, Monday through Thursday - 9:00 AM to 4:00 PM and also Friday through Sunday - 8:00 AM to 5:00 PM. In the winter contact the Amador Ranger Station in Pioneer.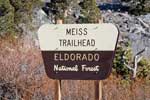 There are two parking areas serving the Carson Pass summit - one on the very top of the pass, the other, Meiss Trailhead, a half mile or so to the west. Both Carson Pass and Meiss Trailhead parking areas require a $5 per day use fee. From November 1 to May 30 they are Sno-Parks, while the rest of the year they are called Day Use Areas. Either way - $5. Seasonal passes are $25 for the Sno-Park season and $20 for the Day Use season. Both areas have restrooms.
Day Hikes from Carson Pass
Woods Lake to Round Top Lake and Winnemucca Lake Loop
Distance: 4.2 mile loop, mountain trail
Elevation Changes: 1,200 feet up - 8,200' to 9,400'

The hike up to Round Top Lake is a favorite for anyone camped at Woods Lake. The trail passes the Lost Cabin Mine on the way up. Experienced mountain climbers may push on to summit Round Top (10,381'). Once you have reached Round Top Lake it only makes senses to climb a slight rise and return to Woods Lake via Winnemucca Lake.
Woods Lake to Fourth of July Lake
Distance: 3.6 miles one way, mountain trail
Elevation Changes: 1,200 feet up - 8,200' to 9,400' and then down 1,200' to 8,200'

Fourth of July lake is an ambitious hike for a single day trip. The trail leaves Woods Lake and climbs 1,200' to Round Top Lake and then drops 1,200' to Fourth of July Lake. The return hike on weary legs can be a challenge. Most people prefer this hike as an overnight backpack trip. There are amazing views from Fourth of July Lake. It rests in a pocket overlooking Summit City Creek canyon, nearly 900 feet below.
South on the Pacific Crest Trail
Distance: pick your distance, mountain trail
Elevation Changes: 1,200 feet up - 8,600' to 9,100' to 8,200'

The Pacific Crest Trail crosses Carson Pass just west of the parking lot. Day hikes on the trail are enjoyable because it offers wonderful views. To the south there is no clear destination until you reach Lost Lakes nearly 7 miles out. Most day hikes go out about 2.5 miles to the south and turn around before the trail begins its serious descent.
North on the Pacific Crest Trail
Distance: pick your distance, mountain trail
Elevation Changes: 400 - 500 feet up - 8,600' to 9,000'

Going north, the Pacific Crest Trail only fluctuates a couple hundred feet in elevation for the first 4.5 miles, all the way to Showers Lake. For a more ambitious hike, if you arranged a shuttle, someone could drive over Luther Pass and up to the top of Echo Summit and leave a car there or be there to wait for hikers. The hike from Carson Pass to Echo Summit is 12 miles over fairly even terrain. The trail never climbs more than 500 feet over the first 9 miles. After that it descends 700 feet to Echo Summit.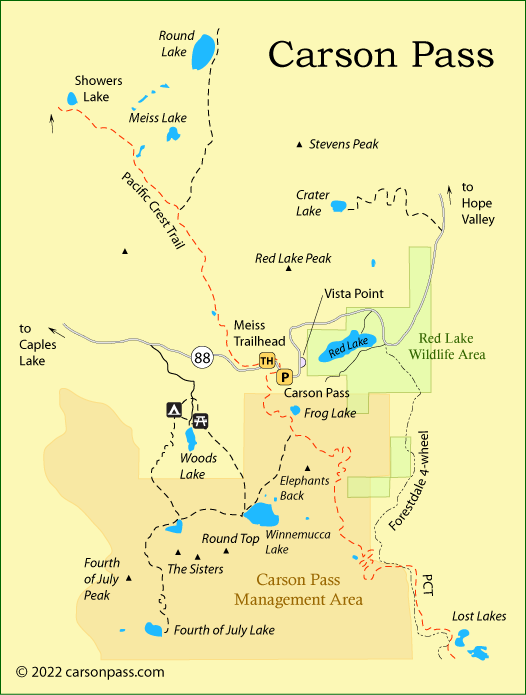 Peak Bagging
A number of the peaks along the Sierra crest at Carson Pass can be climbed with a little caution and common sense. A few summit crags should only be attempted by experienced persons with more advanced climbing skills. Crumbling volcanic rock found on many of the mountains in the area requires particular care.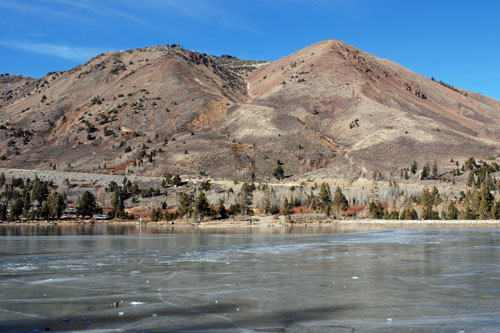 Red Lake Peak
The summit of Red Lake Peak (9585') will give you views to of Lake Tahoe, Hope Valley, and Round Top. As long as you avoid the temptation to climb the jagged summit crags, the hike to the top of Red Lake Peak is fairly easy. Begin at the top of Carson Pass and follow the ridgeline north for a little more than 1.5 miles.
Round Top
At 10,381 feet in elevation, Round Top is one of the highest peaks in the area. The hike to the mountain is usually made from Round Top Lake, after hiking up from Woods Lake. A use trail leads south from the lake toward the saddle between the eastern Sister and Round Top. The trail, however, soon veers more toward Round Top and then disappears, leaving climbers to find their own route. Pick up the ridge and follow it nearly to the top. The highest point is too dangerous to attempt without technical climbing skills, but the lower summit offers enough spectacular views to make the climb well worthwhile. Reference: The Tahoe Sierra, by Jeffrey P. Schaffer, 2002.
Map
The Sisters
Both Sisters are rated class 1 or 2 climbs, meaning that hands may occasionally be needed for balance. Approach them from Woods Lake, hiking to Round Top Lake and then up to the saddle between Round Top and the Sisters. Then follow the ridge up to the summit of the eastern Sister, the higher of the two. From that peak you can traverse to the other Sister a quarter mile to the west.
Elephants Back
Elephants Back (9585') is a class 1 climb from either Carson Pass or Woods Lake. Hike to Lake Winnemucca and work your way over to the obviously gentle southwest ridge. Follow it to the summit.
Carson Pass Camping
Woods Lake Campground
Located at an elevation of 8,200 feet, 63.5 miles east of Jackson and 2 miles off Highway 88, near Carson Pass. Usually open from July 1 to mid-October.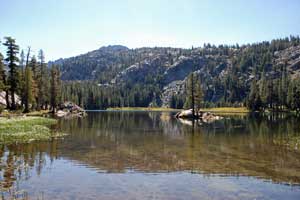 Campground Amenities
25 camp sites for tents
Vault toilets, piped water, picnic tables, grills, fire rings, bear boxes
Swimming, fishing, picnicking, hiking
Non-motorized boating on Woods Lake

Reservations: None
Fees: $24 per night for 6 people and 2 vehicles
Woods Lake Campground Map
Back Country Camping
Camping outside a designated campground in the Carson Pass area requires a wilderness permit. Pick one up at the Information Center on the summit of the pass or at the Ranger Station in Pioneer. Within the Carson Pass Management Area wilderness camping is limited to specific sites.
Red Lake Wildlife Area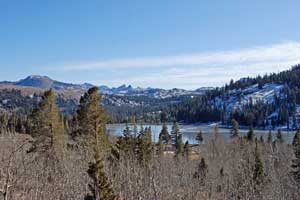 860 acres surrounding Red Lake and Forestdale Creek are designated as the Red Lake Wildlife Area. Within the wildlife area fishing, boating, hiking, snowshoeing and cross-country skiing are allowed. Off-road motorized vehicles are not allowed in the area.
Animals that may be sighted in the Red Lake Wildlife Area include marmots, beavers, golden eagles, red-tailed hawks, coyotes, and deer.