Volcano
Volcano began as a Gold Rush town with miners working in places like Soldiers Gulch and Clapboard Gulch, hauling their paydirt by hand to the nearest water supply to wash out the gold. By 1851 to town had grown to 300 houses and two years later there were 11 stores, 6 hotels, 3 bakeries, and 3 saloons. Beginning in 1855, hydraulic mining changed the landscape around Volcano, washing away tons of dirt and leaving odd formations of rock exposed above the ground.
Now Volcano has only about 100 residents. There are quaint shops to visit, historic buildings, a theater company, and restaurants, hotels, and pubs. The St. George Hotel is on National Register of Historic Places. Nearby is the famous Daffodil Hill, a private 4-acre farm that bursts into bloom every spring and draws thousands of visitors.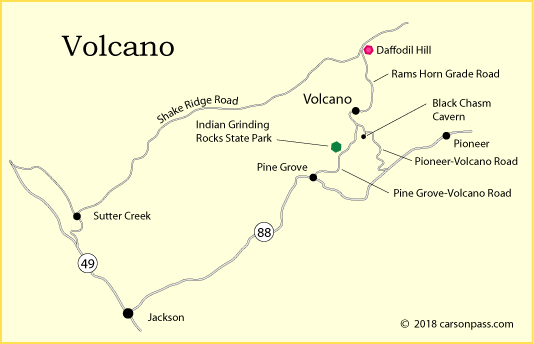 Daffodil Hill
The McLaughlin family's 4-acre ranch known as Daffodil Hill is the star attraction of Amador County every spring when hundreds of thousands of daffodils bloom with a dazzling array of color. The property is open to the public during this time. Weather dictates the exact dates, but usually it is sometime between mid-March and mid-April.
The rustic ranch setting is part of the charm of Daffodil Hill. Scattered across the property are an old barn, historic mining equipment, and wagon wheels. Farm animals from chickens to lambs wander the land.
Early members of the McLaughlin family began planting bulbs back in the 1880s and later descendants have continued the tradition, adding as many as 6,000 new bulbs every year. Today there are over 300 different varieties.
When is it open for the season? Call for a recorded message - (209) 296-7048
Hours: 10:00 AM - 4:00 PM, Monday through Sundays (can close due to inclement weather, so call first)
Cost: Free, including free parking
Location: 18310 Rams Horn Grade, Volcano
Volcano Theatre Company
(209) 296-2525 Volcano Theatre Company
The Volcano Theatre Company performs in the Volcano Amphitheater and the Cobblestone Theatre. In 2018 the company will be presenting one great show after another:
The Sunshine Boys
Alice in Wonderland
Voices
A Tuna Christmas
Black Chasm Cavern
15701 Pioneer Volcano Road, Volcano, CA
(209) 296-5007. Black Chasm Cavern
Black Chasm Cavern, a National Natural Landmark, offers visitors tours of the expansive cave. Along the way you will see stalagmites, stalactites, helictite crystals, and flowstones.
Walking Tour
A 45-minute guided tour along walkways, stairs, and platforms, offering stunning views of the underground formations. The tour culminates in the Landmark Room, the site of an array of helictie crystals.
Open: Year-round
Cost: about $15 for adults, about $8 for children ages 3 - 12
Volcano Lodging
St. George Hotel
16104 Main St., Volcano, CA
(209) 296-4458 St. George Hotel
Amenities: Historic 3-story hotel, restaurant and saloon, gardens, grand parlor
Accommodations: Some rooms with shared baths, Zinfandel Suite with small kitchen, Garden Cottage
Rates: about $55 - $209 per night
Volcano Union Inn + Pub
21375 Consolation Street, Volcano, CA
(209) 296-7711 Union Inn + Pub
Amenities: Bed and Breakfast, Pub (Friday-Monday), live music on Sunday afternoons at the Pub.
Accommodations: 4 rooms, private baths, WiFi, flat panel TV, hot freshly prepared breakfast
Rates: $95 - $150 per night